NEWS FROM OUR NEIGHBORS IN BELLINGHAM
An article from THE EVERETT HERALD, MAY 6, 1911:
---
GIRLS IN HAREM SKIRTS ARE RESCUED FROM CROWD
–Bellingham, May 5, 1911
Two young women appeared on Holly Street yesterday afternoon in harem skirts and attracted such a following of hooting small boys and interested men that Deputy Sheriff Ed Sterne placed them under arrest and escorted them into a neighboring store away from the crowd.
After the crowd dispersed, the women were liberated.
Deputy Sterne is also Wreckmaster of Bellingham and declares that he acted in that capacity, fearing that this kind of rubbernecking could wreck some home.
---
So what are "harem skirts"? Better known as harem pants, they originated in Paris with designer Paul Poiret in 1911. Poiret intended to liberate women's fashion. They were very controversial in their day.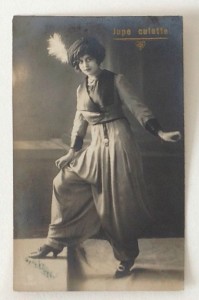 Submitted by Dave Ramstad