2018 Calendar
The 2018 calendar is available! It celebrates the 125th anniversary of our city's charter in 1893 in pictures and stories of the era.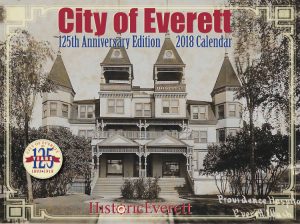 f
Our new $20 Historic Everett Calender is available:
J. Matheson Gifts, 2615 Colby Ave
Lamoureux Real Estate, 1904 Wetmore Ave
Peak Fitness, 2902 Rucker Ave
or
Send a check for $23.50 (includes shipping) to: Historic Everett, 2112 Rucker Ave #8, Everett WA 98201
Paypal: click on "Buy Now" below. $3.50 for shipping.
Previous calendars