Historic Plaques Sale
Oak, blue, or unpainted options available!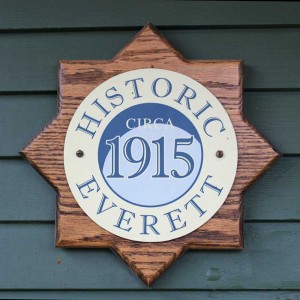 Home and building owners can show their pride and raise awareness of historic properties in Everett. Your structure only needs to be at least 50 years old. These plaques are one way of celebrating and honoring these classic homes that make our neighborhoods unique. Fill out the form and submit to Historic Everett. Allow about 2 weeks for delivery.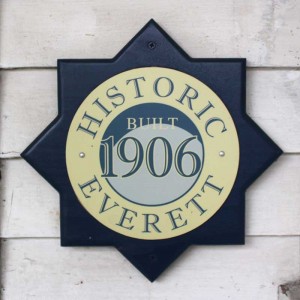 The bases are made by Michael Vander Elst, a local woodworker. Michael hand makes all the wooden bases and routes the hole for the center disc so that the disc and base are flush. Then he drills a hole in the back for mounting. The discs are made from Sintra, a weather-resistant material that lasts for years. They can be under a covered porch or out in the open.
The unpainted option allows you to use your house colors.
Historical note: The design for the plaque is based on the original windows on the Historic Everett Theatre on Colby Avenue.
Get your plaque on sale today!
Print and fill out the Historic_Plaque_form (PDF file)
and mail in following the instructions.
Or use Paypal/VISA below: