Knights of Columbus Community Center and War Memorial Building (1921)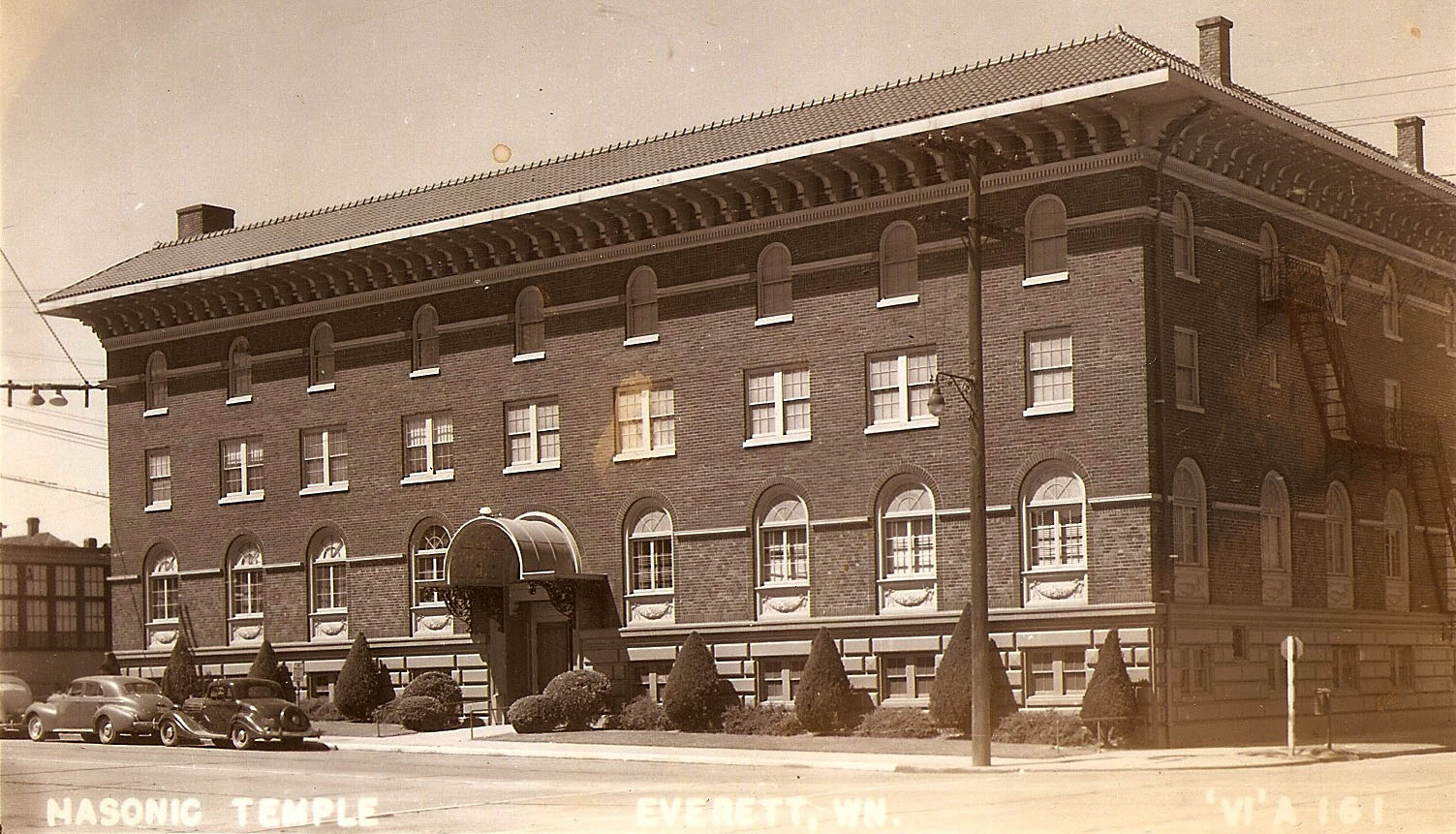 National Historic Register. Architect: Charles F.W. Lundberg and C. Frank Mahon. General contractor: A.D. McAdam.
The Catholic Men's organization, Knights of Columbus, wanted to honor 41 of their members who served in World War I. At the time, with 550 members it was one of the larger men's organizations in Everett. Their subscription campaign coincided with the YMCA efforts to raise money for their new building. Like the YMCA, this building had a gymnasium and swimming pool. Reportedly it cost $110,000 to build, plus $25,000 in furnishings and equipment.
By 1926, membership dropped to 350, and two years later the Knights of Columbus turned over the property to the Masonic Order. Hereafter it was known as the "Masonic Temple". The Masons filled in the swimming pool fairly early in their tenure.
The massive Second Renaissance Revival style building is on the edge of the central business district, seemingly dividing it from the homes to the north. There are three stories plus a high basement. The Everett and Wetmore sides are clad with "burlap brick". The roof is supported by jigsaw brackets with beaded edges, springing from an applied dentil course. Some of the window treatment is characteristic of Georgian Revival, and patterned brickwork reference American Colonial style.
It had a great dining hall in the basement that could seat 700-800 people. The kitchen had five ovens. A grand marble staircase led to the main floor. Originally the main floor had a ladies parlor, billiard room, but later was a dance studio. The second story had the Grand Lodge Hall, a secondary youth hall, dressing and locker rooms, and an theater seating 800. The attic story is somewhat smaller with several miscellaneous rooms.