Historic Everett Holiday Party
December 16th, 2018
6:30-9pm
Everett Elks #479, 2802 Hoyt Avenue
Please be our guest at Historic Everett's annual Holiday Party at the Elks Club.  Share the season and enjoy adelicious dinner buffet with friends from Historic Everett. This is a complimentary event as a benefit of your membership, non-members are welcome for $20.00 each. Enjoy Dickens carolers as they entertain us with traditional and popular holiday music throughout the night.
RSVP by December 12th, please contact Historic Everett to reserve your space.
Call 425.870.6699 or email HistoricEverett@gmail.com to RSVP.
---
New 2019 Available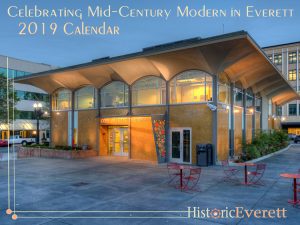 $20.00
SHOP LOCAL!
J. Matheson Gifts
Peak Health and Fitness
Lamoureux Real Estate
Or you can buy it through Paypal  ($3.50 for shipping):
---
IT'S NOT TOO LATE TO SAVE!
Endangered Buildings: Longfellow School

The Everett School District is considering demolition of this 1911 building, located at 3715 Oakes Ave. It's in danger of being replaced by parking spaces. For more on its history and how the public can help preserve its legacy, see Longfellow School.
---