Upcoming Events
Home Tour
Saturday, September 23 (changed from Sept 16), 10am-3pm:
This popular tour gets you into 7-8 historic Everett homes!  Pick up your brochure at the Van Valey House, 2130 Colby Ave on the day of the tour. It will probably take you a couple hours to enjoy all the homes, so you should probably get there before 1pm.
Tickets for the home tour are $20, available using one of these places:
J Matheson Gifts at 2615 Colby Ave (available starting Sat, Sept 9)
Online at Brown Paper Tickets
At the Van Valey House on the tour date.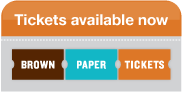 Historic Everett members will also get a poster of the event.
Please contact us if you'd like to be a docent for half the event. Sign up for the morning shift 9am-noon or the afternoon shift from noon-3pm. The event is free for docents to tour the homes either before or after their shift. Training and home assignments will begin at 9am for all docents at the Van Valley House.
historiceverett@gmail.com, 425-293-2767
New book
October 22, 2pm: Aileen Langhans will present her new book, "Random Facts From the Founding Days of Everett, Washington". Everett Public Library auditorium, 2702 Hoyt Ave. This event is sponsored by the Friends of the Library. All proceeds from her book go towards framing historic photographs in the Northwest Room of the library. Aileen is a long time member of Historic Everett, and has been writing our newsletter for quite a few years.
2017 Calendar, now $5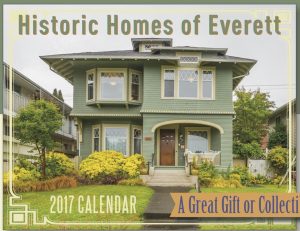 Endangered Buildings
Longfellow School (1911)
The school district is no longer using this building, located at 3715 Oakes Ave. It is in danger of being torn down. For much more on its history, see our Longfellow School page.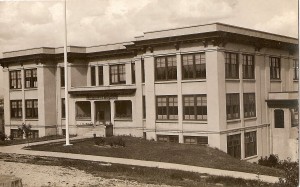 Scholarship program