Upcoming Events
Saturday, June 10 at 11am: The ever-popular Cemetery Tour at Evergreen Cemetery, led by Gene Fosheim.
Sunday, June 11 at 10:15am: Trinity Episcopal celebrates their Quasquicentennial (125th) Anniversary — one of five Everett churches that started in 1892! Attend the 9am service, then a free brunch (donations accepted) in Rogers Hall at 2301 Hoyt Ave. Jack O'Donnell will talk about the first 30 years of Everett, then Pastor Rachel will talk about the church's history.
Saturday, July 29 at 10am: Mid-century tour with DOCOMOMO WEWA, starting at the corner of California and Wetmore (site of the Bank of Everett/Cope-Gillette Theatre).
2017 Calendar, now $10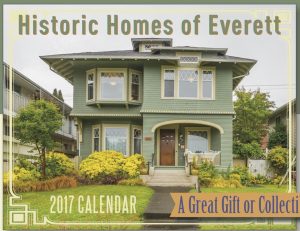 Our calendar is available at J. Mathesons Gifts, Peak Fitness and Health, Wicked Cellars, Home Inspirations and Lamoureux Real Estate. This edition is full of fun historical dates and wonderful home examples from Bungalows to Four Squares to Cottages. Don't miss out on adding this colorful reference to your collection.
Endangered Buildings
Longfellow School (1911)
The school district is no longer using this building, located at 3715 Oakes Ave. It is in danger of being torn down. For much more on its history, see our Longfellow School page.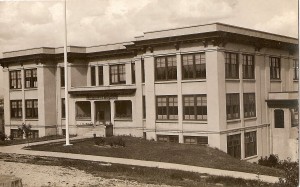 Scholarship program