Upcoming Events
Holiday Party
Sun, Dec 17, 6:30pm: at the Schack Art Center at 2921 Hoyt Ave. Please RSPV to Andrea at 425-870-6699 by Thursday, Dec 14th if you will attend.
Coming soon: 2018 calendar
Our new calendar will celebrate the 125th anniversary of Everett's city charter in 1893. It will be available soon at:
J Matheson Gifts at 2615 Colby Ave
Peak Health and Fitness at 2902 Rucker Ave
Lamoureux Real Estate at 1904 Wetmore Ave
Neal's Barbershop at 2942 Colby Ave
Endangered Buildings
Longfellow School (1911)
The school district is no longer using this building, located at 3715 Oakes Ave. It is in danger of being torn down. For much more on its history, see our Longfellow School page.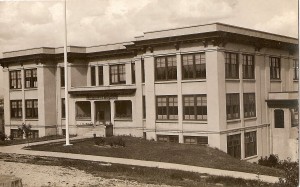 Scholarship program