Upcoming 2015 Events
Holiday Party
Sunday, Dec 13, 6:30pm: Sol Restaurant, 1405 Hewitt Ave
It is free to members and $25 for non members, but you must let us know to reserve a spot!
Contact Andrea to RSVP by Dec 8: 425.870.6699 or historiceverett@gmail.com
Recent 2015 events:
Apr 19: Everett Maritime History, Chuck Fowler, author of "Tall Ships on the Puget Sound"
May 2: Brown Awards, Everett Historic Commission
June 25: Everett Museum of History annual meeting
Saturday, June 27: Join us for our next walking tour: Historic Evergreen Cemetery
Saturday, August 8: Out-of-town tour to Whidbey Island.
Note: our Annual home tour is unfortunately cancelled due to sewer construction. Access is very difficult. Next year!
Sept 15: Civil War  Soldiers Tour, Evergreen Cemetery
Oct 17: Cemetery tour
Oct 18: Powder Mill Gulch with Christopher Summit.
Nov 5: History night at The Anchor at the western foot of Hewitt:
Buffet dinner,  Steve Bertrand talks on the Everett Massacre — Evolution of a Class war,  Trivia contest, Solemn commemoration of 99th anniversary of the Massacre with bagpipe accompaniment
Our Mission
Preserve the heritage of the City of Everett through advocacy, education and preservation;
Engage in the preservation and rehabilitation of historic buildings, landscapes, architectural artifacts and other cultural items that reflect the heritage of Everett;
Offer comprehensive preservation programming in order to educate our membership and community.
Historic Everett was formed in 2002, and gained its official non-profit status in 2003.
Since its formation, the organization has garnered immense support from community members, local businesses, the City of Everett, and the State of Washington. Its members volunteer to raise awareness for homes and structures of historical value.
Historic Everett works hand in hand with Everett citizens, forming important, and lasting ties within the community.
Endangered Buildings
Hodges Building (1923)
This building at 1804 Hewitt Ave had a fire and is in need of repair.
Longfellow (1911)
The school district is no longer using this building, located at 3715 Oakes Ave. It is in danger of being torn down.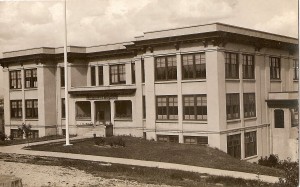 YMCA (1920)
The Y bought property at 4710 Colby Ave, and we are concerned about this building at 2720 Rockefeller Ave.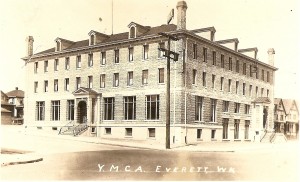 Swalwell Cottage (1891)
Possibly the oldest house still standing in Everett, it is in foreclosure. On the National Register of Historic Places.