Everett Massacre graphic novel
The novel is available! Click to order.
You can purchase the graphic novel for $5 at:
J. Matheson's  Gifts, 2615 Colby Avenue
Bookend Coffee Company, at downtown Library, 2702 Hoyt Ave
Choux Choux Bakery, 2900 Grand Ave
Lamoureux Real Estate, 1904 Wetmore Avenue
Black Lab Gallery, 1618 Hewitt Ave
Wicked Cellars, 2616 Colby Avenue
Cafe Zippy, 2811 Wetmore
Anchor Tavern, 1001 Hewitt
Neal's Barber Shop, 2942 Colby
Peak Fitness, 2902 Rucker Avenue
2016 Planned Events
October 29, 1pm: Presentation of the creation of the "Everett Massacre graphic novel" by Deborah Fox, Everett Public Library main branch. This is the graphic novel commissioned by Historic Everett.
November 3, 5:30pm: 100th anniversary of the Everett Massacre. Anchor Tavern, 1000 Hewitt Ave. We'll have music, a buffet dinner, Steve Bertrand's talk on the events of 100 years ago, a trivia contest, and will sing Amazing Grace at the foot of Hewitt. $20 includes dinner, or $10 without dinner.

This is the 100th centennial of the Everett Massacre, which still affects descendants of those involved. There are a number of events scheduled by the Everett Public Library (click on previous link to get times and locations), at both branches. Events include:
Oct 29:

Deb Fox talks about creating the graphic novel "Everett Massacre"

Oct 30:

"Cuts" film about shingle weavers
Bill Marcental, shingle weaver, comments and answers questions about his craft
Cameron Johnson presents "Sawdust Barons and Shingle Weavers"

Nov 1:

"The Devil and Miss Jones" film about the unionizers, from 1941

Nov 5:

"Verona", a documentary by Denise Ohio about the massacre

Nov 6:

"The Trial of Thomas Tracy", talk by Judge Jim Rogers about one of those accused of murder
"Rebel Voices" duo sing IWW songs

Nov 8:

"Roger and Me", movie by Michael Moore confronting GM CEO Roger Smith in Flint, MI

Nov 15
Sunday, December 11: Holiday party. Location and time TBA.
---
Past Events, 2016:
Mar 6: Annual Meeting, at Trinity Lutheran College, The Commons. Christopher Summitt, an engaging historian and master storyteller, spoke on "Everett and First Settlements in Snohomish County".
Mar 19: LOSCHO Malstrom Award luncheon.
Apr 3: Kent Sullivan on the Northern Pacific Railroad
Apr 17: Talk and book signing with Gene Fosheim, author of Mill Town Boy
Jun 4: Cemetery Tour, Evergreen Cemetery.
July 13: Ceremony for moving the Weyerhauser building.
July 28: Bicycle ride the Mill Town Trail.
Aug 20: Downtown guided walking tour with Jack O'Donnell.
Aug 27: Civil War cemetery tour at Historic Evergreen Cemetery, led by Gene Fosheim.  
Past Events, 2015 :
Apr 19: Everett Maritime History, Chuck Fowler, author of "Tall Ships on the Puget Sound"
May 2: Brown Awards, Everett Historic Commission
June 25: Everett Museum of History annual meeting
June 27: Join us for our next walking tour: Historic Evergreen Cemetery
Sept 15: Civil War  Soldiers Tour, Evergreen Cemetery
Oct 17: Cemetery tour
Oct 18: Powder Mill Gulch with Christopher Summit.
Nov 5: History night at The Anchor at the western foot of Hewitt:
Dec 13: Sol Restaurant, 1405 Hewitt Ave

---
Our Mission
Preserve the heritage of the City of Everett through advocacy, education and preservation;
Engage in the preservation and rehabilitation of historic buildings, landscapes, architectural artifacts and other cultural items that reflect the heritage of Everett;
Offer comprehensive preservation programming in order to educate our membership and community.
Historic Everett was formed in 2002, and gained its official non-profit status in 2003.
Since its formation, the organization has garnered immense support from community members, local businesses, the City of Everett, and the State of Washington. Its members volunteer to raise awareness for homes and structures of historical value.
Historic Everett works hand in hand with Everett citizens, forming important, and lasting ties within the community.
---
Endangered Buildings
Hodges Building (1923)
This building at 1804 Hewitt Ave had a fire and is in need of repair.
Longfellow School (1911)
The school district is no longer using this building, located at 3715 Oakes Ave. It is in danger of being torn down.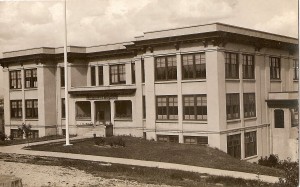 YMCA (1920)
The Y bought property at 4710 Colby Ave, and we are concerned about this building at 2720 Rockefeller Ave.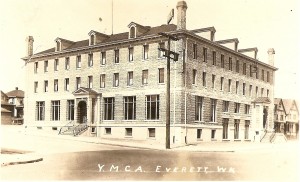 Swalwell Cottage (1891)
Possibly the oldest house still standing in Everett, it is in foreclosure. On the National Register of Historic Places.
---
Scholarship program