CONTEST RULES
Coloring book contest!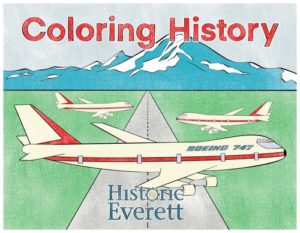 Here's a stay at home activity for both young and not so young. Created by Rosemary Jones, a local Everett artist. Available for $10 (includes postage) by contacting Historic Everett directly at HistoricEverett@gmail.com or by Paypal/VISA or call 425-870-6699. Also, you can purchase at J. Matheson Gifts at 2615 Colby Ave.
Purchase Coloring History, color one historic illustration from the book of your choice and submit your entry by September 15, 2020. Winners selected by Historic Everett will be announced on September 30, 2020. Write your name and phone number on the back.
SUBMIT YOUR ENTRY AT: J. Matheson Gifts or mail to Historic Everett at 2112 Rucker Ave #8, Everett, WA 98201 or email to HistoricEverett@gmail.com.
Official Rules for Historic Everett Coloring Contest
We will be having four different age groups for our coloring contest and you
must only compete in the correct age group. The contest is open to the young
and the young at heart, all ages:
Group 1 Age 0-5
Group 2 Ages 6-9
Group 3 Ages 10-13
Group 4 Age 14 and over
The colored pictured must be a page from the Historic
Everett coloring book, 'Coloring History'. On the back of your
entry should be:
– Your Name
– Your Age Group
– Your Phone Number/email address (if you win)

Entries will be judged on the following:
1. Use of color
2. Neatness
3. Overall Impression

All entries must be received by September 15th, 2020 and may be hand
delivered in an envelope to J Matheson Gifts 2615 Colby Ave. in Downtown Everett
or mailed to Historic Everett at 2112 Rucker Ave #8, Everett, WA 98201
All participants agree to allow us to display entries on the Historic Everett
Website and the Historic Everett Facebook page.

Contest winners' names and artwork will be announced on September 30th
2020 and will be displayed on our website and our Facebook page
A $50.00 Gift Card will be awarded to one winner in each of the 4 categories.
Coloring Books may be purchased directly through Historic Everett or at
J. Matheson Gifts, at 2615 Colby Avenue, Everett.